Remember Hyperlinks?
Latest Troubles.
Dragged Into Court
05/30/2023
A visitor to the BuffScan livestreaming YouTube channel asked if I could include towns outside Buffalo City proper in the current channel lineup of the scanner. I assume that this is a direct result of the officer dragging incident that occurred in the town of Tonawanda on Sunday. Once I became aware via the various Twitter accounts reporting on this matter, I turned to my own scanner feed to better understand what was happening. Lo and behold though, I don't actually include Tonawanda police.
Whether or not that incident prompted the question, I thought I'd explain in longer-than-needs-to-be-I am-sure format why I don't carry all the surrounding township or village police departments.
It really just boils down to poor reception. My scanner sits on a desk here on West Ferry Avenue with nothing but its little original silver-stick antenna jutting out the back, and it just doesn't pull in all those little police departments well enough to not become a quality issue for the feed itself. Sometimes the channels open with activity but the amplitude is very low, and this sounds terrible -- like little breaks in the stream where people are supposed to be talking but where you either can't hear them at all or just very little.
And the other reason has to do with the SDS200 scanner that I use being a bit of a slow poke when it comes to scanning. The SDS200 is a great digital scanner, but it scans "slow" such that adding more and more endpoints to do so for, dramatically slows each scan cycle. Ergo, I have to be very selective about what I add to the lineup or risk fragmenting continuity of individual conversations. As much as possible, I keep the lineup focused strictly on Buffalo, with begrudged exceptions such as the awful-sounding AMR which I seriously considering taking out of the lineup (I'll take opinions on that one if anyone has one).
Mr. Bravado
Speaking of that officer dragging incident, the local media is reporting that victim officer David Piatek is still in intensive care but coming along well, now in stable condition at the hospital. And just as importantly, that a one Dareious Akbar has been arrested as the alleged driver or just signficantly involved well enough in putting Officer Piatek there, and is being charged.

A simple search on Facebook reveals a number of local accounts with "Dareious Akbar", all of which could be him but of course can't be conclusively said to be. Most of the accounts certainly depict pictures of someone who looks like the man they hauled into court today. And most of them contain posts and comments in "mush-speak" literary expression as well as pictures and media of thug life bravado.
You have to hand it to these kids, or as in this case, young adults; they may come off with much bravado today, and stick to such bravado for many years even as they arc and maintain a trajectory downward, but let's check up on this idiot in 20 years.
If he's not permanently caged by then, shot dead by police, shot dead by a street cohort, or shot dead by his own hand, we won't be surprised to find him that toothless asshole jangling a stolen grocery cart of plastic bottles down the middle of Main Street rambling about how rotten his life or whatever.
I joke, but with today's digital technology, we could actually do this sort of protracted monitoring and updating of this guy's remaining dirt bag life.
I dunno, let me think about it.
---

&nbspBy BuffScan for BuffScan.
Comments (0) | Promote (0) | PermShare | Focuses (25)
&nbsp
Buffalo Police Investigate BuffScan Property
05/24/2023
So this happened this afternoon. As best as I can deduce from the BuffScan feed playback, officers were searching the neighborhood for a gun suspect which brought at least one officer to the very porch of BuffScan Operational Headquarters.
The actual incident that prompted the search appears to have taken place several blocks south and it is unclear if the search ultimately resulted in a takedown - which would have been awesome.
But, the radio chatter suggested that police were associating the suspect with a 4 door blue Acura. After I made this video footage a Ring Neighborhood app post, one commentator said they spotted one leaving the neighborhood fast.
De-tects, you might find this one interesting if you're still looking for the suspect.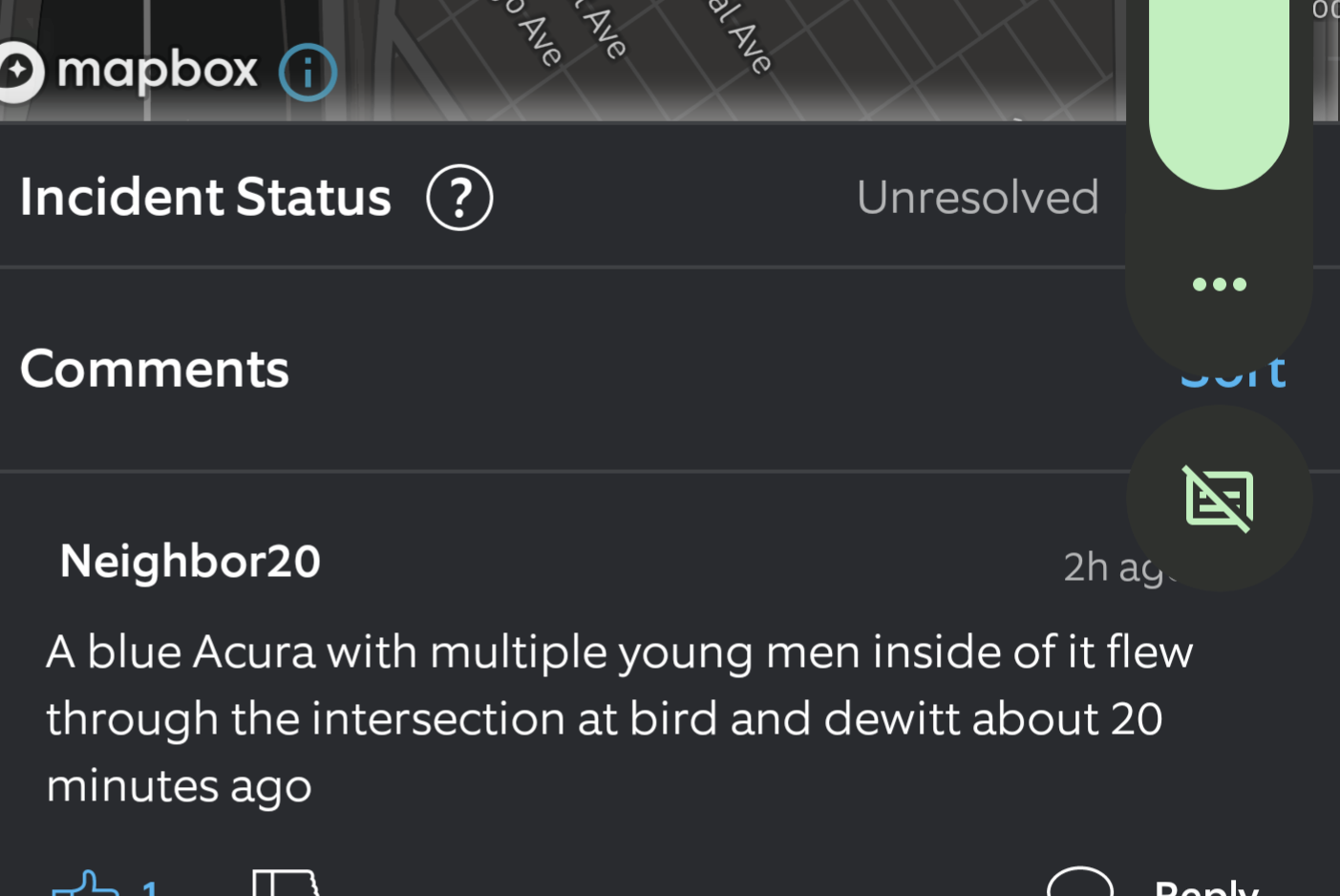 ---

&nbspBy BuffScan for BuffScan.
Comments (0) | Promote (0) | PermShare | Focuses (25)
&nbsp
AMR Shrug Sighting 1
05/20/2023
The point of this post is twofold. First, I need to test my custom "Instagram" feature for Battle Blog, the publishing engine BuffScan presents through. And second, I need to establish the tempo of posting media of public safety activity as spotted that on the face of it is mundane and seemingly pointless. More on the whys of that as my posting rolls on.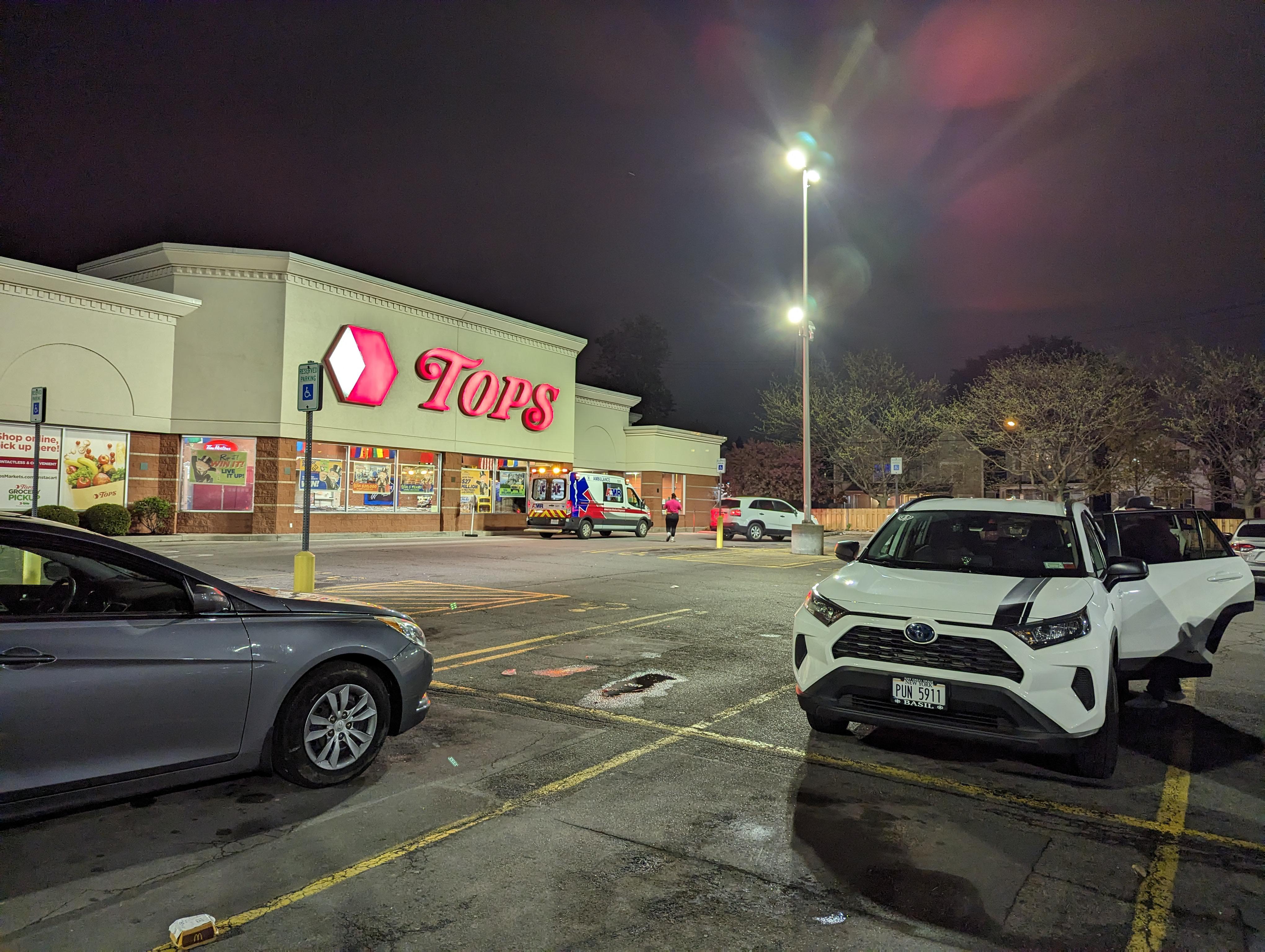 ---

&nbspBy BuffScan for BuffScan.
Comments (0) | Promote (0) | PermShare | Focuses (12)
&nbsp
Buffalo Police Social Media Interactionists Wanted
05/19/2023
Ever since it's been possible for people to circulate Ring Doorbell-style video clips of low level criminal actors stealing packages and committing vandalism and the like, I've wondered, do police roam those posts and take notes? Is there any demonstrative curiosity prompting them to scroll through those postings?
The answer is probably yes. Though I would guess it is just to tie some happestance of some bottom-feeder criminal to a larger crime actually worth spending resources on.
But do they interact with the public while they are doing this? Are they assuring in an official social media comment-injected post, "Hey, we're here, we're watching, we're interested, and thank you for posting this!"
That's where the answer is probably not. Or at least that I've ever seen insfofar as Buffalo city postings.
Well, here's an example out of Wilkes-Barre Pennsylvania where I routinely monitor the Ring Neighbors app of my old neighborhood there, because I'm just nuts. It shows off exactly what I'm talking about. People post their vids of porch pirates and what-not, and a detective caters to the public imagination that police care and are in the obvious place checking evidence where evidence is most contributed.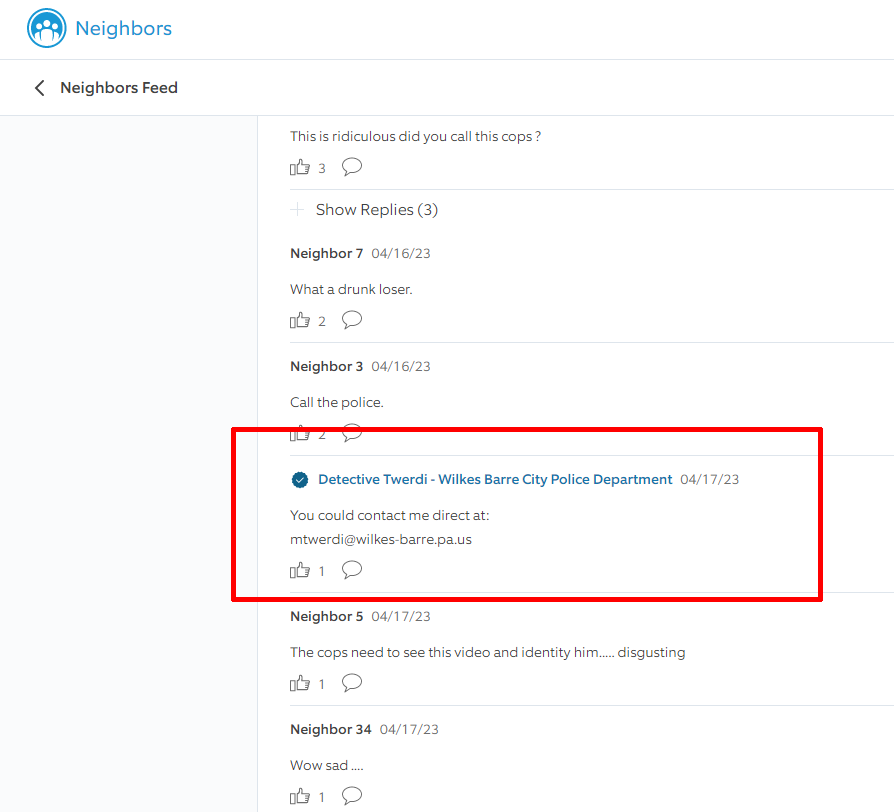 I think it would be great to develop the work flow and assign a social media ambassador to "patrol" these types of feeds and forums with the aim of creating a logically expected presence.
---

&nbspBy BuffScan for BuffScan.
Comments (0) | Promote (0) | PermShare | Focuses (35)
&nbsp
Fist Bumping QSL.NET - Whoever That Guy Is
04/29/2023
A note about the following post: Police scanning must be replaced by something else. In this cross-post from my personal blog though, I nonetheless call attention to tribute content from my Calling All Citizens or Openness campaign, both of which I conducted through the late 90s to the mid-2000s. To explain my feelings today on that effort, while encryption is a key trigger in the motivation for building up a human network of public safety media documenters to replace police scanning, it is not exclusively the reason. I hope public safety agencies will find it in their policies to go back to open-air communication, or to stay that way if they have not yet closed, but honestly -- from the philosopher of "Calling All Citizens" and "Openness" -- it's no longer important that they do. There's a better answer that doesn't require public safety participation in this level of transparency.

For maybe 20 years now the site operator of QSL.NET has kept my "Calling All Citizens" and "Openness" campaign alive.
Or at least the ghost of it.
Occasionally when doing modern day searches on artifacts of my campaign I am inevitably led back to his early style website.
The website operator has preserved key content of the old openness.org website (the domain of which I sold to Intel a few years ago - because $$$). The operator has done this outside the somewhat constrained overhead of its other archive as might be found on the wayback machine.
I would add that he seems to have done so perfectly. He seems to have filtered out a lot of my own nonsense of the day and targeted just the meat and potatoes of the matter.
Beyond all that content, the QSL's author appears to have a superior sense of and commitment to indexing. The main landing page contains scores of links to many now-dead, but just as many still-alive, websites and blogs all related to public safety communication and other websites of the period, some of which are devoted to the merits of keeping police and fire calls in the clear.
I don't know if he continues to add and curate his index today but his adherence to the principle of a flat noise-free web that simply provides information and indeed spreads it is just another point of admiration. Even if done accidentally in this era of the commercialized web it's a sobering illustration of the open web's authentic utility.
The website's creator keeps his actual name off the site almost entirely. The one reference to it (which I will not spell out here to respect his apparent sensitivity to being stamped online) is in the form of a picture of a certification he received with his name on it. Aside from that it seems he wants a healthy porch between himself and the rest of the world.
It's long overdue and frankly, not by much in terms of dollars. But whoever you are good sir, thank you for allowing my donation tip.
Tap-Off Points
---

&nbspBy BuffScan for BuffScan.
Comments (0) | Promote (0) | PermShare | Focuses (38)
&nbsp
Something Unbelievable Happens In This Video
04/23/2023
Couple of interesting facets to this incident that occurred near the intersection of Grant and West Ferry. But the really big one will be spotted only by the sharpest eyes. Watch the video closely.
I became cognizant of this incident, which was just a block or two outside my BuffScan residential response zone, by sirens running past my apartment. One siren had the gun of an engine that told me it was a) the police, and b) it was something serious enough to merit charging to the scene.
And believe it or not, despite the excitement of the obvious crisis -- somewhere nearby -- my first instinct was not to crawl out of bed to investigate. I could tell it wasn't "just out front" and as fate had it, I was suffering from the lingering effect of what felt like the flu. I was too comfy under the covers and while I knew I was missing something "just close enough" maybe, I wasn't getting up to see what.
That was for the first siren, and I believe for the second. But after the third, and then, when I managed myself up to look out the window, I saw two other police cars racing sans lights and sirens in the same direction, I knew, well shoot, physical health be damned, I had to figure out what was up.
Whatever the heck it was, I couldn't legitimately be "Mister BuffScan" if the world was coming down a few blocks away and I didn't at least try to go and document it. So, mumbling and grumbling I found my sneakers and got going.
I also fired up the YouTube BuffScan feed to get some insight as to what I might be foolishly driving myself into, but only in time to hear this one line: "Cars slow it down, slow it down for Grant and West Ferry."
Well at least I knew where this thing was. Just a few blocks up. In the back of my mind I had hoped it would be farther away so that I could just wave it off as "too far" and get myself back into bed. But with that veracious a response, and so close, well, as I've said already, I couldn't not go check it out.
So off I go in my car. As I turn out of the driveway I immediately spot the conflagration of police and fire trucks directly ahead of me. It wouldn't be a far drive, and while I was at it, I could pick up some toilet paper after I was done recording whatever was going on. I suspected the flu after all, people, and I needed a resupply.
I did park my car in a near empty parking lot across the street, hopped out, and in no time was that weirdo filming the scene; some footage of which you see above.
The scene I had injected myself into was a block-length's line of police vehicles, some with overheads on, some not. Most dramatically as you see in the video, one of them had been driven on to the sidewalk as if having just about driven into the building ahead of it.
A group of firemen and police were "working on" someone seemingly at the hood of the BPD cruiser and immediately I feared the worst. Had a BPD vehicle physically mowed someone down? Was there a shootout that meant an officer had to keep his attention on a gun instead of the steering wheel? The layout wasn't good so I mentally prepared myself for whatever gruesome thing those people were hovering over.
In short order I heard the bellowing cries of a man and knew right away someone hadn't been killed, irregardless of whatever happened. Thank god. The cries came from what I took to be a brown-skinned man lying on the ground, still in a bit of a physical tussel. He was shouting arbitrary sentences at the people trying desperately to tend to him.
I settled on what most of the others standing around me did, which was that someone enduring a mental health crisis, or drug consumption, was having a breakdown and acting out. He was probably confronted by the police somehow and then challenged them which of course did not end well. At this writing, the actual story is still unknown, but when speculating, it's fair to start with the simple theories first.
But in looking at the video, all of that is really beside the point. A block's worth of police, an untold gaggle of police officers remunerating everything among themselves; citizens standing around aghast, a screaming perp-victim on the ground who was bounded quickly and loaded into an ambulance (and I might add much to his apparent objection), and a weirdo - heh - filming it all.
And yet, what you see in the video is this: Absolutely nothing.
And by that I mean, save for my filming, save for the inside knowledge of the public safety system and a few direct witnesses, to the wider knowledge of the world at large, nothing happened. This was a non-event that evaporated of police cars and witnesses relatively quickly afterwards.
Don't take that the wrong way. Yes, the information exists. Police have it, AMR has it, the fire department has it, and even the witnesses with their individual memories and renditions, have it. And certainly with great effort, the story of what happened could be "mined away" from the people who hold it. Maybe it would flow freely from them on the simplest of query. Maybe it would take a fight, if for some reason it mattered to have one. Maybe a resource-strapped for-profit media house would actually step up and blotter it as perhaps a lit up city block of public safety vehicles should be logically incentivizing enough to do.
But then again, maybe not.
Information is caprciously over-controlled. Maybe there is fear of wrong-doing and mismanagement; or maybe, as the saying goes: Absolute power corrupts absolutely. Who knows. But if public safety feels something is too routine, or the for-profit media is too lean to cover it, whatever dark thing we think can happen in a world where human curiosity is squelched, might-could.
---

&nbspBy BuffScan for BuffScan.
Comments (0) | Promote (0) | PermShare | Focuses (82)
&nbsp
Ambulance Crash is Example of Traversion Encounter
04/20/2023
Just after 7:00 PM I overheard a radio call for an accident involving an ambulance at Humboldt and Main and decided to document public safety response, thereby logging my first traversion encounter as BuffScan Node #1.
A traversion encounter is one we can define as becoming cognizent of a documentable incident during a BuffScan Noder's normal travels (in my case, during my home commute).
Although this particular event was detected over the police scanner, I would expect that in a post-radio-scanning-world, traversion encounters would be more direct and by nature, random. A BuffScan Node member must be ready with their camera or media hardware, and related documentation plan at all times for this type of encounter.
Audio Call of Driver
Although the ambulance driver reports an injured colleague, we can take from lack of any mainstream news mention this morning that, at least hopefully, the injuries were not serious. Granted my scan of mainstream news headlines here has been pretty cursory and perhaps it is too early after the matter.
---

&nbspBy BuffScan for BuffScan.
Comments (0) | Promote (0) | PermShare | Focuses (63)
&nbsp
Pizza Delivery Man's Huge Trip
04/18/2023
Not local but you get my local voice. :)
This takedown occurred in Delaware County Pennsylvania and it didn't involve the police at least insofar as the takedown itself. Rather, it involved pizza delivery driver Tyler Morrell who happened to be at the right place at the right time, and had the right gumption.
He delivers for Cocco's Pizza in Aston (here's the for some-reason unsecure website but it's probably fine - here is their Facebook page if you prefer big tech corporate privacy invasion over a potential hacker invasion).
I've had to look around for the best online depiction of this thing and Doorbell News seemed to have the best -- none of that mayonaise media intro BS. That and it shows off the whole thing which is important for the fresh delivery finish.
---

&nbspBy BuffScan for BuffScan.
Comments (0) | Promote (0) | PermShare | Focuses (63)
&nbsp
Buffalo Police Avoid a Hole In One
04/16/2023
This video posted to the Ring Neighbors app last week shows the urgent, safe, and effective takedown of an individual who, to likely anyone's eye, was experiencing a mental health issue or out of control public drunkness.
The video shows a man intermittently and wildly swinging a golf club at "air adversaries" around him as he wobbles erratically down the street. He also carried a bottle which he periodically places on the ground and picks back up over and over again.
The takedown was clean without any of that "passive-escalation" crap where officers scream something like "drop the weapon fucker or I'll blow you away!" approach that, well, tends to naturally provoke a reaction to deadly ends. We see that a lot in videos, including (mostly) technically "justified shooting" ones.
This is not the only video circulating of BPD officers doing professional clean takedown work but confrontations are fluid and differ from situation to situation. Emotional strength and discipline are always a matter of "holding your breath" to see if that's what actually prevails.
That's why this incident is particularly special. If you actually watch the video, the suspect even crudely arms himself by shattering his bottle just as he is being cornered by police in the covered vestibule of a venue that had patrons huddling nervously off as the incident unfolded just a few shoulder-lengths away
The Ring Neighborhood post commentary suggests that this occurred on Hertel avenue. The poster was rightly commended for his video quality which he attributed to the WHD103Z dome camera system, which is a bit more than the average homeowner would probably install. I assume the OP was somehow connected to the business hosting the camera.
Whether confrontational outcomes are good or bad, I generally avoid weighing in on the merit of police action (or maybe better put, I like to think that I do). To me, whether they are singing praise or condeming actions, people do this as a way to mitigate the power that law enforcement has over them which to me is a weaker stance if there has to be that psychological orientation in the first place. To me, like journalists, cops are just people forced to work in potentially explosive unpredictable circumstances all the time. As such results will vary, but nobody is the devil for it.
That being said, they didn't shoot this guy and my guess is the moment the man shattered that bottle and armed himself, they could-might-have.
---

&nbspBy BuffScan for BuffScan.
civildecomposition takedown video
Comments (0) | Promote (0) | PermShare | Focuses (64)
&nbsp
Police Radio is Going Out Of Service
04/15/2023
If you are one of the people who circulate among the social media or internet circles that a site like this might come to your attention through, it's fair to guess that you have some relationship to a police scanner.
You're the classical police scanning hobbyist, such as myself; work in public safety, or maybe work with the media.
Whatever the case, you're the type of person that needs to hear and know the following: Police scanners are going away. Police scanning is evaporating.
I am unfurling a vision of something to replace it that is much more exciting, engaging, and useful. And to the extent that it involves radios and structured radio communication, will by its very nature, actually save a variation of public safety monitoring despite all the foils of encryption and policy derision against chaotic transparency. In the world that I write out here, there will be something to tune in to and even to participate in directly -- if that world actualizes.
I need an opening entry, and something as plain and blunt as this one is really the gist, the point, and the start of a beautiful story.
You can read about the mission of this blog here.
---

&nbspBy BuffScan for BuffScan.
Comments (0) | Promote (0) | PermShare | Focuses (42)
&nbsp